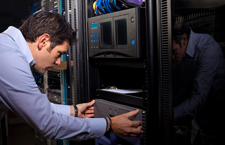 With Signet Technology managing and maintaining your network, you and your employees can focus on your business, instead of spending valuable time focusing on your IT needs.
You'll also benefit from having a skilled and knowledgeable team of IT professionals who keep up to date on emerging technologies, ensuring a broader range of solutions are available to you.
And because you'll need fewer employees focusing on your IT support in-house, your company will save money on employment taxes and benefits.
Enables employees to focus on their core business.
Provides access to the latest technology.
Offers a greater pool of professional talent and experience.
Lowers labor costs.
Offers a team approach, flexible plans and dedicated service.
Enables company leaders to worry less about IT needs.
Provides greater data protection and network security.